28 Dec
So, we have a moratorium in place in our house on discussing our kitchen backsplash, as we've gone over it a thousand times already with no answer in sight. We were thinking of waiting until the kitchen is complete and making a decision at a later point, but our contractor has indicated it might be best to begin setting whatever we choose before the cabinets and countertops are installed, giving a more seamless look.
So, first, here's the floorplan of our new kitchen (a broader post on the kitchen itself will happen soon):
The only area that will actually have a backsplash is the wall with the rangetop.  The remainder will be finished with millwork and a dreamy wall of windows. Here's a view of the part of the kitchen that contains the backsplash:
As you can see, we'll have some heavy hitters on this wall: a 36 inch column refrigerator, 30 inch freezer, 48 inch commercial rangetop and a 54 inch stainless hood.  All great stuff, but lots and lots of metal going on.  The backsplash, however, is quite small (The cross-hatched area is the only area where we will have the backsplash).  Depending on the trim we use for the range, it might be 10-20 sq ft at the most.
The layout will look fairly similar to this inspiration photo (including the limited amount of visible backsplash, plus our cabinetry will be similar, and we're using the same lights in clear glass over the island):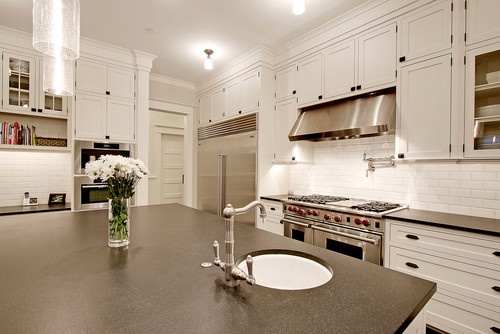 So, here are a few elemental photos to get you in the spirit of the design (again, more will be a general kitchen post very soon!).
Color scheme:
Cabinets will be white, countertops will be grey and white granite or quartzite (white fantasy or super white granite), floors will be walnut.  Here's a photo of a white fantasy quartzite:
Stronger than marble but with the look of marble, we used this beautiful stone in our old master bath and loved the look.   We hope to find a slab with more of the swirling bits when it is time to purchase.
The overall color scheme will therefore be something like this: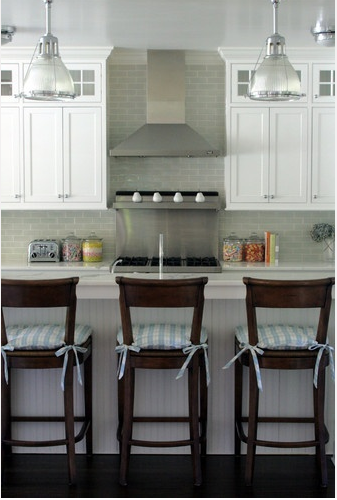 Hood and hardware:
What will go directly above the backsplash?  I imagine this is an important factor to consider. Here's our new baby:
With some jockeying back and forth, we were able to eek out a great deal. Isn't she pretty?  We'll also likely be using similar polished chrome cup style pulls, albeit with different knobs on the upper cabinets.
Cabinet style:
We're going for an updated traditional/transitional look throughout the house, so the cabinets will be an inset, concealed-hinge beaded face frame design.  Too technical?  They'll look something like this, but with hidden hinges:
Backsplash choices:
So, that leaves us with the ultimate question: what to do with that 10-20 sq feet of backsplash? Our beautiful lights, the wonderful light from all the glass at the back of the kitchen, the hood and of course, all those wonderful appliances will be enough to take center stage, but that wall will need some sort of protection.  Do we therefore go with:
White subway: classic, but boring? If we go with white subway, do we go with white grout or dark grout for a more period look?
Gray subway: many options here (ceramic with some color variation, glass, opalescent, or high gloss. Too much gray?
Stainless – range panel only:
Stainless – entire backsplash:
Pattern: The variety of patterns abound, of course, but we have narrowed it down to one that we are still considering:
If you aren't familiar with New Ravenna, their stuff is stunning but pricey. However, given the small area we'll need and the relatively more affordable pricing on this particular tile, it is still in the running.  I also like how it complements the shape of the lights we'll be using in the kitchen (see the blue or grey post for more on that).
So, dear readers. Do tell: what would make your heart sing when you walk into our fair gray and white kitchen?  We'd love your input.