10 Jan
Anyone who knows us knew that the place where we'd really be focusing our attention is in the kitchen.  The kitchen is the heart of any home, as they say, but this goes double for us.  To give you an idea, the best Valentine's Day gift I have ever received was this bad boy, the Sumeet Multi Grind:
The Multi Grind takes anything you put into it and makes it into a fine powder or paste. Ground spices, nuts, grains, curry pastes, you name it. It was love at first site for me and the Multi Grind (discovered at an Institute for Culinary Education glass in Thai Curries), and she's had a place of pride on our countertop ever since. No flowers and chocolates for this girl (well, ok, no flowers, but I'm more than happy to receive seriously good chocolate)!
So, where do we begin?  For a refresher on the floorplan, cabinet style, island stone and backsplash, take a look at our backsplash conundrum post (and feel free to continue to weigh in on that one…we're opting to wait on that decision until after the cabinets are in). For the lighting, take a look at our kitchen lighting, blue or grey post (we're going with grey – thanks again everyone!). For our rocking faucet, head to the bottom of this post.
Here are a few highlight photos for those just interested in the eye candy:
What's left? Nothing, I guess…oh wait! The appliances and cabinet inserts.  We spent a ridiculous amount of time researching appliances, as one should, as well as where to buy them.  We're ultimately going with AJ Madison as they offered great deals for bulk purchases through our contractor.  We wanted to go with a smaller mom and pop place in NJ, but between the sales tax (which they couldn't waive), delivery fees and overall pricing, plus a tremendously antiquated paper-based system, AJ Madison turned out to be the winner.
So without further a-do, here are our appliance selections:
Rangetop: While we were momentarily lured by the fire power of the Capital Culinarian, the Bluestar range was our first and final choice.  Fans of the product on blogs like Gardenweb (which, if you are looking at anything kitchen related without reviewing this blog, it is something akin to trying to hone a wheel out of stone with a butter knife), as well as various videos demonstrating the Bluestar's general awesomeness sealed the deal:

In the end, we've opted for a 48 inch rangetop, which includes 6 burners and a 12 inch indoor grill (there was some hesitation about whether the grill, which receives mixed reviews, is worth the trouble, until we spent a mosquito-infested summer in Brooklyn an decided we were less enthusiastic about grilling outdoors).  Here's a visual:
Ovens: Why double wall ovens instead of going with a full range (including the ovens)? Unless you are getting a 60 inch rangetop, you'll end up with one large, one small oven. The discomfort of bending over and attempting to view the contents of said ovens with an island directly behind you is also less appealing. With small children, we can also run the top oven without as much of a safety concern.  Most of all, though, is that electric ovens are generally considered to be better for baking than gas, and we do a great deal of baking.  We have opted for the DCS Fisher-Paykel electric wall ovens:
The hardware in the oven itself was far superior to many of the other options, and it includes great features like a built in probe thermometer, proofing functionality and the best broiler available on an electric oven at half the price of Wolf ovens (generally considered tops for electric ovens).  We briefly toyed with the idea having one regular oven and on Gaggenau steam oven or combi oven (both of which offer great options for bread baking), but in the end, the great price and excellent features of the DCS ovens made them the winner.
Dishwasher: Having spent some time living overseas, we can attest to the vast superiority of European dishwashers.  They simply do a better job and are quieter to boot. The general consensus was that Miele are the best but are about double the price of Bosch and require Miele trained staff for install and repair, so we scratched those off the list. However, you can't just buy a Bosch dishwasher and assume you are good to go. After careful research, we discovered that there are two lines of Bosch: those made here, and those still made in Germany (the Bosch plus line).  We opted for the German model for the quieter function volume, hidden controls (great with kids), cool rack configuration and great reviews:
Refrigerator and Freezer: Years of living with other peoples' tiny fridges with variously awful configurations made us a little nutty on this particular set of appliances. We're going with a 36 inch fridge and a 30 inch freezer for an outrageously silly 5 1/2 feet of cooling capacity.  We actually would have preferred a smaller freezer at 24 inches, but the brand we decided upon doesn't offer a 24 inch model, so 30 inches it will be.  The brand will be Miele:
Sinks: Having had a stainless sink in our last apartment that looked scratched and beat up from the jump, we wanted to go for a porcelain sink this time around. However, we also have seen the typical apron-front, farmhouse sink stained and mottled when the standard white model is used. We found a great option with the Blanco Silgranit line, made from 80% granite, which promises to be stain free.  We'll be using them for both the main and the prep sink. We were able to score an unbelievable price on both sinks at Hayneedle through regular searching and dogged persistence (a week later and the price has increased there by 40%)!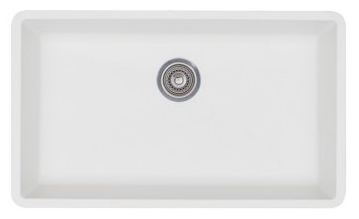 Microwave: We toyed with various options and locations for the microwave, and after reading the pros and cons of every possible option, we're going with a cheap, non built-in option that comes highly recommended.  This is your average Panasonic model with none of the bells and whistles we don't need (convection oven, oversized capacity, etc.) and the one we can't live without (a mute function…truly, if you have kids, this is a godsend). We also considered Sharp's line of drawer microwaves, but we were turned off by the price and user complaints about the door and the ease of putting things in and pulling things out. One final tip for microwave selection: with built-in microwaves running well over $2000 (Yes!), you can buy a trim kit for less than $200 that will work with your $200 microwave and achieve the same look.
And here are a few of our favorite cabinet insert selections:
Utensil organizer:
Above the oven cutting board storage: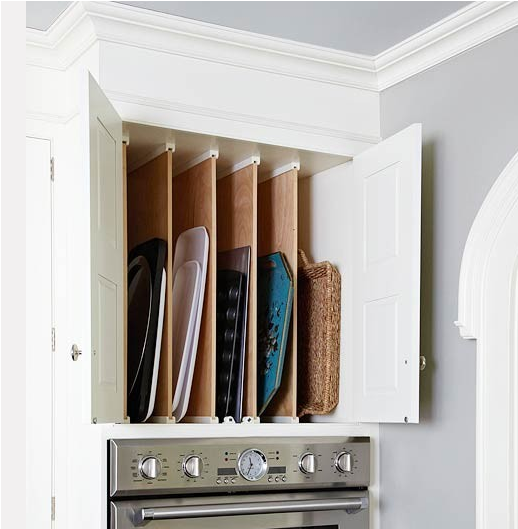 Spice racks for the pantry:
Under sink organizer:
Under sink pullouts:
Pantry design:
And my personal favorite, the baking station:
Designed to accommodate both bread and pastry baking, this will be brownstonegirl's personal corner of heaven in this kitchen. The perfect height for kneading bread by hand, the wooden board need not be dragged up to counter height; it'll easily be stored away underneath when not in use. Awesome.
The stuff dreams are made of, indeed.   What are we looking forward to the most? Just having counterspace again – such a luxury after several consecutive rentals with limited space!